Nikon's Z Series Full-Frame Mirrorless Camera System

After months and months of
hints
, rumors,
leaks
, speculations, and
teasers
, Nikon just finally officially unveiled the highly-anticipated Z Series, its first full-frame mirrorless camera system.
Nikon is launching the Z Series with two cameras, three lenses, and one lens adapter.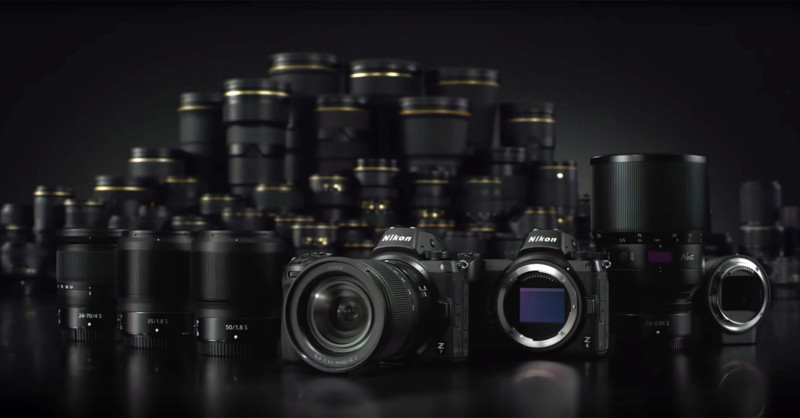 The New Z Lens Mount
"We have been refining our optical technologies for over 100 years," Nikon stated at its global launch event. The Z Series features a brand new lens mount that's designed to "redefine possibilities" and elevate optical performance for Nikon over the coming decades.
"This is the new light that Nikon will use to pioneer the future," Nikon says. "It is indeed mirrorless reinvented."
The Z mount uses a large 55mm inner diameter and a 16mm flange focal distance that allow for apertures as fast as f/0.95 and a slim body design. It also opens the door to other lens properties that weren't previously possible with Nikon's F mount.
F-mount lenses will be fully compatible with Z mount cameras using the new FTZ Mount Lens Adapter.
Nikon says the new lens mount will also allow its Z mount to be future proof, allowing for cameras with higher and higher resolutions and optics with greater and greater sharpness.
Nikon Z7: A Flagship High-Res Mirrorless Camera
The new Nikon Z7 is Nikon's flagship full-frame mirrorless camera, featuring high-resolution photography and "revolutionary" autofocus.
The camera features a 45.7-megapixel backside-illuminated full-frame CMOS sensor with a native ISO of 64-25,600. It has an EXPEED 6 image processor that supports 9fps continuous shooting.
The Z7 packs a groundbreaking autofocus system that boasts a whopping 493 AF points that cover 90% of the viewfinder area.
Nikon Z6: A High-Speed, Low-Light Powerhouse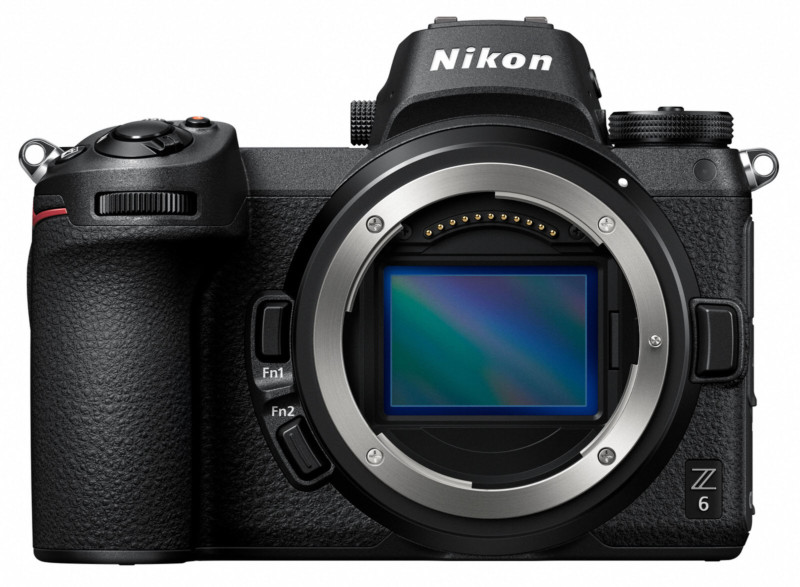 The new Nikon Z6 is designed to be an all-around, high-speed, low-light camera. It features a backside-illuminated 24.5-megapixel full-frame sensor with a native ISO range of 100-51200. Backed by an EXPEED 6 image processor, the Z6 can do 12fps continuous shooting.
There's a 273-point on-sensor phase-detect autofocus system.
Z7 and Z6 Shared Features
Aside from the handful of ways in which the Z6 and Z7 differ, the two cameras are identical in physical design and share their other features and specs.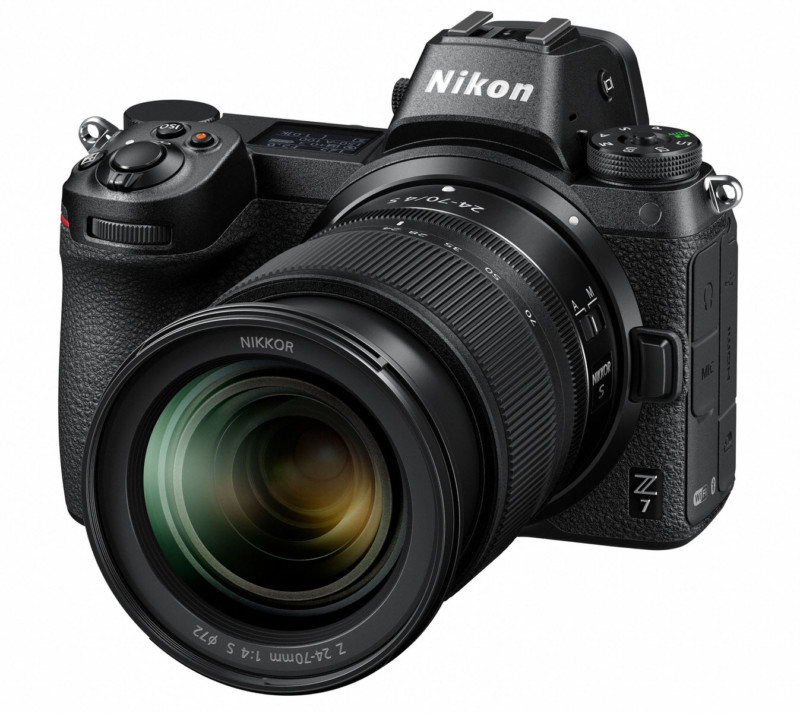 Both cameras feature durable, dust- and drip-resistant builds and a large, firm grip for secure and comfortable holding.
On the top of the cameras is a relatively large information display, two dials, a dedicated video recording button, an ISO selection button, and an exposure compensation button next to the shutter button.
The electronic viewfinder features a resolution of 3.69 million dots and provides an edge-to-edge clear, natural view with minimal aberrations. It has a frame coverage of approximately 100%, a magnification of 0.8x, and a 37-degree diagonal viewing angle. On the EVF is a fluorine coating that repels dirt.
While looking through the EVF, photographers can pull up the i menu to see and adjust shooting settings such as ISO, AF-area mode, and Picture Control.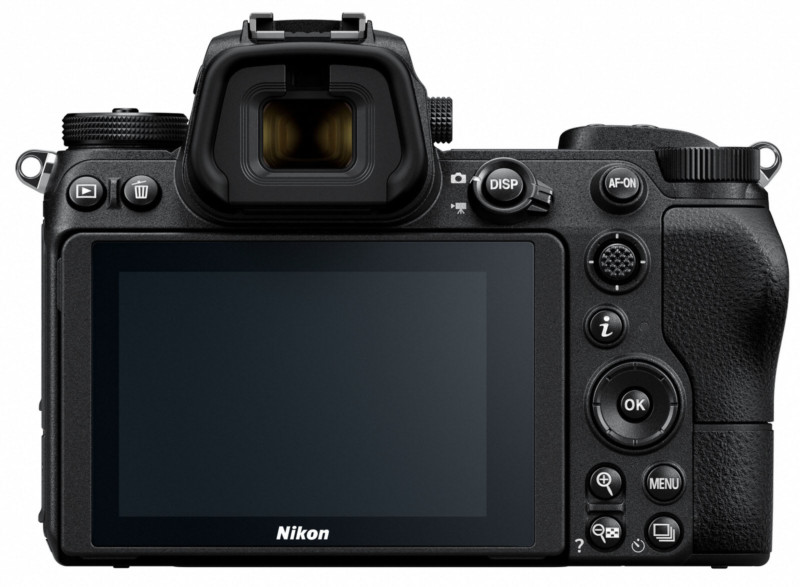 Under the EVF is a 3.2-inch, 2.1-million-dot touchscreen tiltable LCD.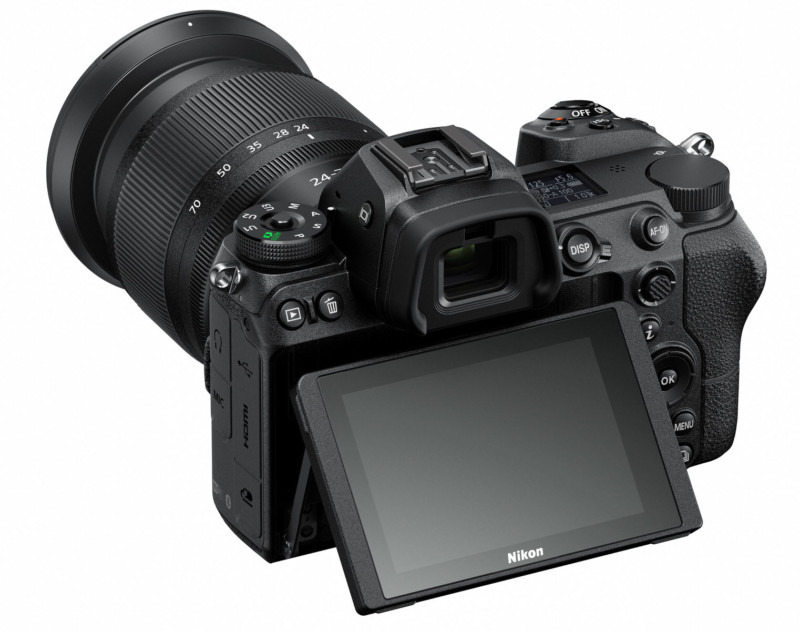 Both cameras feature a hybrid AF system that uses an algorithm to automatically switch between focal-plane phase-detection AF and contrast-detect AF.
For the first time, in-camera 5-axis vibration reduction is appearing in a Nikon camera. The system provides 5-stops of compensation and is also compatible with F-mount lenses mounted to the lens adapter.
On the video front, both cameras can shoot 4K Ultra HD footage. Other video features include 10-bit N-Log HDMI output, Active D-Lighting, electronic vibration reduction, focus peaking, timecode sync support, and 120fps slow-motion recording at 1080 resolution.
Nikon says it's developing an MB-N10 Multi-Power Battery Pack that will provide long hours of shooting. It will increase the number of photos possible and the maximum recording time by 1.8x.
Both cameras are compatible with existing Nikon DSLR accessories such as EN-EL15/a/b batteries, WT-7/A/B/C Wireless Transmitter, and radio/optical Advanced Wireless Lighting.
Other features found in both cameras include a silent photography feature (for shooting with zero shake and noise), 20 Creative Picture Control options (with adjustable effect levels from 0 to 100), an intervalometer for shooting time-lapses, and built-in Wi-Fi.
Nikkor Z Lenses
Nikon has announced three initial Nikkor Z lenses: the 24-70mm f/4 S, 35mm f/1.8 S, and 50mm f/1.8 S.
The new S-Line of Nikon lenses are products that feature Nano Crystal Coating and have met a more rigorous standard of quality than ever before. The lenses are fully sealed — even the moving parts — and are resistant to both dust and drips.
Each control ring on the new lenses provides quieter and smoother aperture and focus changes — ideal for professional video recording. The lenses also feature reduced focus breathing and have a quieter AF drive.
Nikkor Z 24-70mm f/4 S Lens
The new Nikkor Z 24-70mm f/4 S is designed to "change the perception of what is possible with zoom lenses with a maximum aperture of f/4," Nikon says.
Features and specs include a minimum focusing distance of just 0.3m (~0.98ft), a retracting mechanism that can be set on/off without pressing a button, and a fluorine coating.
Nikkor Z 35mm f/1.8 S Lens
The new 35mm f/1.8 features a new multi-focusing system with two AF drive units for high-speed, high-accuracy, low-noise performance.
Nikkor Z 50mm f/1.8 S Lens
The new 50mm f/1.8 provides soft and beautiful bokeh and features a new powerful stepping motor (STM) for quiet and accurate AF control for both photo shooting and video recording.
Nikkor Z 58mm f/0.95 S NOCT Lens
Nikon has announced that it's developing a 58mm f/0.95 lens for its Z Series. The manual focus lens will be the fastest lens ever created in Nikon's history.
"It will stand to symbolize the Nikon Z mount system's new dimension in optical performance," Nikon says. "It has inherited the design concept behind the original AI Noct-NIKKOR 58mm f/1.2, a standard prime lens released in 1977, named for 'Nocturne' (a musical composition inspired by or evocative of the night), and was popular for its ability to finely reproduce point light sources as point images.
"This new Noct lens that is currently in development will take advantage of the advanced design flexibility afforded by the Z mount, pursuing ultimate optical performance."
Lens Roadmap
Nikon has revealed its lens roadmap for the Z Series over the next few years. After the three lenses launching this year, Nikon is planning to release six lenses in 2019: the 58mm f/0.95, a 20mm f/1.8, an 85mm f/1.8, a 24-70mm f/2.8, a 70-200mm f/2.8, and a 14-30mm f/4. Then there are three lenses scheduled for 2020: a 50mm f/1.2, a 24mm f/1.8, and a 14-24mm f/2.8.
Nikon FTZ Lens Adapter
The new lightweight Nikon FTZ lens adapter provides compatibility for about 360 existing F-mount lenses from AI type onwards.
Lenses without VR will automatically be stabilized by the Z Series' cameras in-body stabilization (3-axis). Lenses with VR will have their VR systems work together with the in-camera VR.
Like the lenses, the Nikon FTZ is sealed from dust and drips.
Pricing and Availability
The
Nikon Z7
and
Nikon Z6
are designed to go toe-to-toe with high-end DSLRs, and they both have price tags that reflect that. The Z7 will be available on September 27th with a price tag of
$3,400
. The Z6 will hit stores in late November with a price tag of
$1,996
. When paired with the new 24-70mm lens, the Z7 and the Z6 will cost
$4,000
and
$2,600
, respectively.